Poster
Posts: 462
Joined: Wed Jan 11, 2017 7:06 pm
Contact:
Just a telegram stuffed in some ordinary Kew file.
The Jewish DPs at Bergen-Belsen Committee had a meeting in November 16th, 1945, people still captive months after liberation.
A Resolution from this protest meeting, addressed to Mr Aitlee and Mr Bevin and Mr Hall.
I think it speaks for itself (and answers a lot, especially for some today's fanatics 'anti-zionists' who never read some History):
- Do not prolong our bitter existence in Camps. Please, remove the White Paper restrictions. Enough Jewish blood has been shed. We wish to return to Eretz Israel. We shall enter Eretz Israel by any means.
These people had nowhere to go.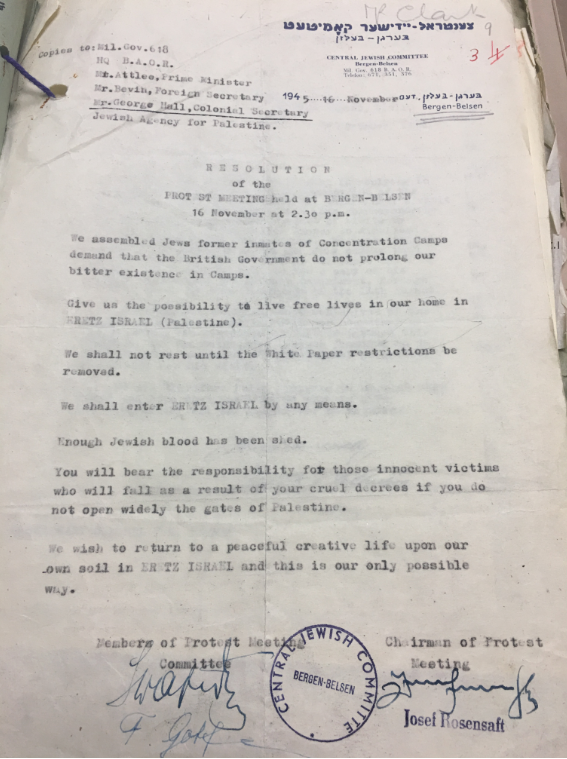 Found
here
.
According to experts and scholars, the 10 stages of every genocide are
XYZ Contagion ('Because the truth is contagious'), an investigative/research political and historical website, deals also with the Srebrenica Genocide
https://xyzcontagion.wordpress.com/about/#English
---
Has More Than 8K Posts
Posts: 8856
Joined: Tue May 31, 2016 3:00 am
Thanks, Kleon, for the new topic.
A joke going around Moscow during The Great Terror:

The NKVD knocks on a door.
The inhabitants ask who it is.
"NKVD."
"You've got the wrong apartment. The Communists are upstairs."
---
Hi Kleon,
It is been some times now that i did "homework" on BB.
But IIRC, by November the camp had been taken over by Zionist movements that turned it into a Kibbutz with the objective to organize the emigration to Palestine.
So i would say that this document is more related to the the "exodus" event, than the Holocaust.

So some additional readings will be necessary to refresh my memories.
I used to have Ada Bimko / Rosensaft somewhere...They left the camp in 1950...
---
Poster
Posts: 462
Joined: Wed Jan 11, 2017 7:06 pm
Contact:
Here's another interesting bit, a letter from a 17 years old German in 1936:
- Everyday antisemitism: a 1936 letter from Germany to America
https://boingboing.net/2017/09/02/every ... -1936.html
Mike Shaughnessy, professor of German at Washington & Jefferson College, translated a letter written one Ernst from Cologne, to his cousin in Pittsburgh, U.S.A. Sent in 1936—after Hitler's rise to power, but before World War II and the Holocaust—it refers glibly and approvingly to the removal of Jews from civil life, even as it reflects the anxieties and growing paranoia of life under fascist government.

Shaughnessy's translation:
Köln, Machabäerstrasse 46. January 6, 1936.
Dear Wilhelm and Family!

I've been waiting a while to get a letter from you in which you would send me the letter from Mr. Früh about your inquiry. Apparently you haven't received anything, so I'll inform you that I've had to give the government very positive, specific details about our ancestry and where our assets are currently.
[...]
Things in Germany are looking up thanks to our Führer and the cleansing of the population from the Jews (Those exploiters who are the misfortune of humanity). Since 1/1/1936, they can't employ Germans as their service personnel, because of the desecration that those good-for-nothings did on the German girls. If one of them even dares nowadays, even if they just insult a girl, they will be put in prison straightaway --those rapists. In addition, German citizenship was revoked for all of them, they are not Germans -- foreign to the German race, and should be sent to Palestine where a lot already ran off to, those bastards.

The winter relief fund was a great success and even a lot of foreigners took part. A lot still needs to be done, because countless people have lost their belongings due to the war and the government run by Jews afterwards. I also lost 500,000 Reichsmark and could therefore make good use of the inheritance.

Well then, I look forward to hearing from you and I wish you and your family a good new year from the bottom of my heart, and hope we resolve the issue soon.

In the meantime I send you heartfelt greetings,

Your Cousin,
Ernst Ries

Ernst, Shaughnessy added, is probably the same man as an Ernst Ries who died Sept. 14, 1943 in Loket, in what is now Czechia.
https://museenkoeln.de/ns-dokumentation ... 8&id=11629
---
Real Skeptic
Posts: 21975
Joined: Thu Feb 13, 2014 4:19 pm
Custom Title: Dostawca - sciany tekstu
Location: still in Greater Tomainia
thanks, good find.
"It was still at the stage of clubs and fists, hurrah, tala"
---
Poster
Posts: 462
Joined: Wed Jan 11, 2017 7:06 pm
Contact:
Another bit related to the Holocaust/Exodus events:
Entry Visa from the British Consulate on 28/8/1940. The text of the document:
I have to inform you that I have been authorized to grant you a visa for Palestine valid for admission not later than October 5th, 1940
A quote from a Zionist:
It seems, at least one British official understood that a Jewish refugee in Lithuania belonged to Palestine, as the Land of Israel.
A quote from Fatah,
here in Arabic
.
Here is more of the paperwork that (Jew) Mr. Joel Blumencwajg had to have to escape Europe.
(Multiple images at he top, need click at right arrow)
Early WWII Refugee travel certificate: Plight of war, escaping to freedom.
-
http://ourpassports.com/early-wwii-refu ... rtificate/
---
Poster
Posts: 462
Joined: Wed Jan 11, 2017 7:06 pm
Contact:
Here's another bit of information that I found a surprising one:
The very popular 'idea', or should I say 'the lie' better, that Jews are bringing 'people of colour' to bastardize white societies and conquer them easily, well, it comes from Hitler himself:
From the official Nazi translation of 'Mein Kampf' into English:
- Full text of "My Struggle (Mein Kampf) - Officially Authorized By The NSDAP In 1940 For The Invasion Of Britain"
https://archive.org/stream/MeinKampf.St ... n_djvu.txt
Page 345-346 (
direct link
):
The black-haired Jewish youth lies in wait for hours on end, satanically glaring at and spying on the unsuspicious girl whom he plans to seduce, adulterating her blood and removing her from the bosom of her own people. The Jew uses every possible means to undermine the racial foundations of a people to be subjugated. In his systematic efforts to ruin girls and women he strives to break down the last harriers of racial discrimination. The Jews were responsible for bringing negroes into the Rhineland, with the ultimate idea of bastardizing the white race which they hate, and thus lowering its cultural and political level so that the Jew might dominate. As long as a people remains racially pure and race-conscious, it can never be overcome by the Jew. Never in this world can the Jew become master of any people except a bastardized people. That is why the Jew systematically endeavours to lower the racial quality of a people by permanently adulterating the blood of the individuals who make up that people.

Page 667 (
direct link
):
The French nation, which is becoming more and more polluted by negro blood, represents a menace, to the existence of the white race in Europe, because it is bound up with the Jewish campaign for world- domination. The contamination caused by the influx of negroid blood on the Rhine, in the very heart of Europe, is in accord with the sadistic and perverse lust for vengeance on the part of the hereditary enemy of our people, just as it suits the purpose of the cool, calculating Jew who would use this means of beginning a process of bastardization in the very centre of the European continent and, by infecting the white race with the blood of an inferior stock, destroy the foundations of its independent existence.
---
Perpetual Poster
Posts: 4683
Joined: Mon Jan 26, 2015 4:45 pm
Location: At the hundredth meridian, where the great plains begin
Kleon_I XYZ Contagion wrote:Here's another bit of information that I found a surprising one:

The very popular 'idea', or should I say 'the lie' better, that Jews are bringing 'people of colour' to bastardize white societies and conquer them easily, well, it comes from Hitler himself:


Ummm, it was the French who sent Senegalese soldiers to the Rhineland, not the Jews. I don't know where he was getting that info from......
---
---
Who is online
Users browsing this forum: No registered users and 1 guest